November 7, 2014 US/Pacific
VIRUNGA
submitted for consideration in the Documentary Feature category for the 87th Academy Awards©.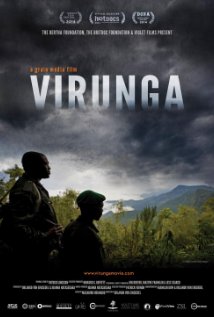 Los Angeles, CA - In this, Director Orlando von Einsiedel's first feature documentary, Virunga National Park is as much a back-drop to the continuous crises escalating in the Congo as it is at the forefront of being the sole refuge for our planet's remaining mountain gorillas.
SYNOPSIS: VIRUNGA is the incredible true story of a group of brave people risking their lives to build a better future in a part of Africa the world's forgotten and a gripping expose of the realities of life in the Congo.

In the forested depths of eastern Congo lies Virunga National Park, one of the most bio-diverse places in the world and home to the last of the mountain gorillas. In this wild, but enchanted environment, a small and embattled team of park rangers - including an ex-child soldier turned ranger, a caretaker of orphan gorillas and a Belgian conservationist - protect this UNESCO world heritage site from armed militia, poachers and the dark forces struggling to control Congo's rich natural resources.

When the newly formed M23 rebel group declares war in May 2012, a new conflict threatens the lives and stability of everyone and everything they've worked so hard to protect.
VIRUNGA is a hard-hitting documentary that eloquently and systematically lays out the brutalities experienced daily in the Congo. Director von Einsiedel deftly weaves the stories of the endangered guerillas, the caretakers of the National Park, and the grotesque dealings of those who turn a deaf ear to the plight of the environment.

VIRUNGA must not be brushed away as just another conservationist film. Instead, it should be considered a vivid tale of the dangers our planet faces, the grotesque under handed actions of those motivated by greed, and the life-or-death choices that are faced by those who refuse to back down or cower away. In fact, one of the film's main subjects, Prince Emmanuel de Merode - Director of Virunga National Park - was shot multiple times in an assassination attempt in the Congo on Wednesday, April 15, 2014. You can read his statement here.

The "IN" Show had the extraordinary opportunity to interview both VIRUNGA's Director, Screenwriter and Producer Orlando von Einsiedel and its Producer Joanna Natasegara! (You can see the interview in the video below.) With VIRUNGA premiering on Netflix and in LA and NYC theaters on November 7th, VIRUNGA has officially been submitted for consideration in the Documentary Feature category for the 87th Academy Awards ©.

VIRUNGA is an environmentalist piece, a conservationist's tour de force and a documentary that gives keen insight into the happenings of Africa's jewel: The Congo. But, VIRUNGA is so much more than that. It is a compelling story that painfully holds a mirror to humanity.

As one of the most tumultous events of the film unfolded, when the Congolese Army retreated and M23 took control, one of the most powerful lines of the film delivered was, "The country is sold." We cannot - we must not - for a moment think that we are not in some way responsible for the outrage. If we do nothing, we are as culpable as the ones causing the destruction.

We may be a world away; but, we can do something. Support VIRUNGA. If you're in LA or NYC, be sure to catch VIRUNGA in theatres. Spread the word. Follow them on Twitter at @VirungaMovie and stay up-to-date on events as they unfold. We may not be in the front line but we can definitely, collectively, rise up in a show of support.
---
NETFLIX Presents: VIRUNGA

Premiering on Netflix and in LA and NYC theatres on November 7th

WEBSITE | VirungaMovie.com

TRAILER | Trailer

TWITTER | @VirungaMovie

DIRECTOR, SCREENWRITER, PRODUCER | Orlando von Einsiedel
PRODUCER | Joanna Natasegara
EDITOR | Masahiro Hirakubo
CINEMATOGRAPHERS | Franklin Dow; Orlando von Einsiedel
EXECUTIVE PRODUCERS | Howard G. Buffett, CEO Howard G Buffett Foundation; Jon Drever; Maxyne Franklin; Jess Search
COMPOSER | Patrick Jonsson
IMPACT PRODUCER | Joanna Natasegara
ASSISTANT PRODUCER | Patrick Vernon

LENGTH | 97 minutes

THEATRICAL & NETFLIX RELEASE DATE | November 7, 2014
Gus Summers is the Host and Broadcast Producer for The "IN Show, an entertaining broadcast that covers all things exciting and enlightening.

When Gus isn't busy covering current events and interesting people, you'll see him out and about enjoying all that the City of Angels has to offer. For any questions, comments, or program ideas, he can be reached at gus@theinshow.com.
(© 2014 to present IN Show Media. and The "IN" Show.
All Rights Reserved.
This material may not be published, broadcast, rewritten, or redistributed without permission of the Author.)