June 26, 2014 12:00 pm US/Pacific
I AM BIG BIRD: The Story of Caroll Spinney
a film by Dave LaMattina and Chad Walker.

Screened at the 20th Los Angeles Film Festival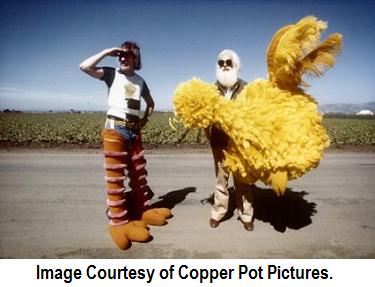 Los Angeles, CA - It's hard to imagine that there could exist in this world a person who doesn't know Big Bird. A cynic would say the reason for that is due, in no small part, to the mechanism of commercialism. Watch I AM BIG BIRD: The Story of Caroll Spinney and you will see that the cynic couldn't be further from the truth.

Ask anyone who is (was) a fan of the children's program Sesame Street who their favorite character is; and, you'll get quite an array of answers. Then ask them how they feel about BIG BIRD and they'll each answer the same. Everyone loves BIG BIRD. Watch I AM BIG BIRD and you'll understand why.

It's true that anybody familiar with Sesame Street (and the Muppets for that matter) can easily tell you that the brilliant Jim Henson was the creator and moving force behind many of the puppets of Sesame Street, including the much loved BIG BIRD. But, it is a fan of the show who will gladly inform you it was the adept puppetmaster Kermit Love who designed him. As for Caroll Spinney? He is the one who gives BIG BIRD his soul.
SYNOPSIS: I AM BIG BIRD profiles Caroll Spinney, the 80-year-old puppeteer who has been behind Sesame Street's Big Bird and Oscar the Grouch since the show's first season. Relying heavily on Caroll's incredible archive of home videos dating back to the 1950s, I AM BIG BIRD captures how the love radiating from Caroll has created a worldwide cultural icon and answers why he can't say goodbye to the characters he cherishes.
Documentary filmmakers Dave LaMattina and Chad Walker have created a wonderful homage to the gifted, kind, endearing Caroll Spinney. They have brilliantly woven Caroll's story from his early childhood, through his military days and into the present day where, after almost 50 years, Caroll continues to be the voices of two cornerstones of Sesame Street: BIG BIRD and OSCAR THE GROUCH.

LaMattina and Walker have also managed to capture the love that flows from Caroll. With tenderness and respect, the filmmakers show the viewer the amazing love Caroll and his wife, Deb, have for one another and the people that touch them. It is neither over-the-top nor too-good-to-be-true. It simply is.
During the 20th Anniversary of the Los Angeles Film Festival, theINshow had the immense pleasure to talk to I AM BIG BIRD's Filmmaker, Dave LaMattina, and principal, Caroll Spinney.

Caroll graciously shares his thoughts on the film, introduces us to Oscar the Grouch and indulges us with a walk down memory lane.

Dave LaMattina tells us the story of how he and Caroll met, why he and fellow filmmaker, Chad Walker, moved forward on the I AM BIG BIRD documentary, and what he hopes audiences will walk away with when they see the film.
The film is exceptionally done; and, it is no wonder that it was one of the many fantastic films chosen to be screened at this year's 20th Annual Los Angeles Film Fest! It showed to an enormously excited crowd at the California Plaza. The "IN" Show had the incredible opportunity to interview Filmmaker LaMattina and the film's principal, Caroll Spinney. (Oscar the Grouch even made a cameo appearance)!

I AM BIG BIRD: The Story of Caroll Spinney is a wonderful film and is one that should be on everyone's watch list! In order to learn more about the film, be sure to visit them online at IAmBigBird.com. You can also like the film on facebook at I am Big Bird movie and be sure to follow them on twitter at @IAmBigBirdMovie.
---
We would be remiss if we did not mention that Caroll Spinney is not only a master puppeteer but he is also an accomplished artist! Please visit his online gallery. You're sure to find a print or two that you simply cannot live without!

Click on the image to visit Caroll's art online.
---
Film: I AM BIG BIRD: The Story of Caroll Spinney
Directed and Produced by: Dave LaMattina and Chad Walker
Written by: Dave LaMattina
Cut and Shot by: Chad Walker
Music Composed by: Joshua Johnson
Executive Producer: Clay Frost
Total Running Time: 90 minutes
Rating: NYR
PR: TC:DM | David Magdael and Associates

Gus Summers is the Host and Broadcast Producer for The "IN Show, an entertaining broadcast that covers all things exciting and enlightening.

When Gus isn't busy covering current events and interesting people, you'll see him out and about enjoying all that the City of Angels has to offer. For any questions, comments, or program ideas, he can be reached at gus@theinshow.com.
(© 2014 to present IN Show Media and The "IN" Show.
All Rights Reserved.
This material may not be published, broadcast, rewritten, or redistributed without permission of the Author.)