October 10, 2014 US/Pacific
I AM ALI
The Man Behind The Legend - An Intimate Portrait.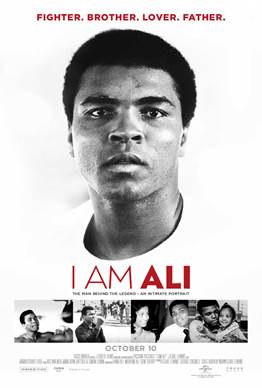 Los Angeles, CA - "I AM ALI."

The name says it all.

I AM ALI is a film about the legendary fighter, Muhammed Ali. But, before you begin to think that this is just another film of one of, if not the, greatest boxers of all time, be sure to take note that this documentary by Filmmaker Clare Lewins, truly has a distinction all its own: The intimate and private recorded thoughts of Ali himself, and his family, and friends.
SYNOPSIS: From the producers of the award-winning SEARCHING FOR SUGARMAN comes an intimate and heart-warming look at the man behind the legend - as we've never seen Ali before. I AM ALI is told through exclusive, unprecedented access to Ali's personal archive of `audio journals' combined with touching interviews and testimonials from his inner circle of family and friends, including his daughters, son, ex-wife and brother, plus legends of the boxing community including Mike Tyson, George Foreman and Gene Kilroy. Experience Ali's extraordinary story, as a fighter, lover, brother, father- told from the inside for the very first time. Directed by Clare Lewins; Produced by Clare Lewins, George Chignell and Greg Hobden; Executive Produced by John Battsek and Simon Chinn.
Clare Lewins is well known for her many documentaries, of famous personalities, for the BBC. As she began gathering information about Muhammad Ali, she quickly found herself surrounded by many of his close friends. Gene Kilroy (Ali's manager of 60 plus years), Angelo Dundee (Ali's trainer of over 60 years), George Foreman (one-time foe and now beloved friend) and many more willingly and happily gave tremendous insight into Muhammad Ali the man. And, in I AM ALI, it's easy to see why Universal ultimately got behind the film fully. Yet, with all that, what gives Lewins' film that powerful extra is what was delivered by the ones closest to him: Ali's family...especially his daughters, Hana and May May.

In their possession, the family had audio tapes recorded by Ali. His desire was that the tapes would be momentos - a way to glimpse into the past - for everyone to have and remember. It is these tapes that both gives the film its "voice" and drives it forward.

It is these audios that allow the audience to once again hear the Legend in the way they remember; and, more importantly, lend life to how the public imagined him to be: A kind, caring gentleman, friend, and father.

For anyone - whether a boxing fan, a Muhammad Ali fan, or not - I AM ALI has something for everyone. With certainty it can be said that all who see this film will, at the very least, walk away with a powerful take-away of some sort; and, more than likely, will learn more about one of the greatest personalities of our modern era. Or, perhaps, of all time.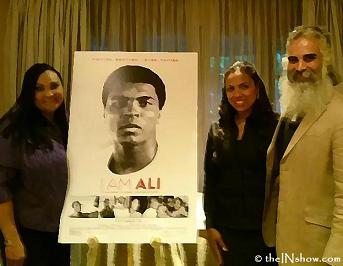 The "IN" Show had the opportunity to both exclusively interview Clare Lewins and participate in a roundtable Q&A with Hana and May May Ali at the Four Seasons Beverly Hills, arranged by Sunshine Sachs.

Even with a limited amount of time to spend at the roundtable, Hana and May May's answers to our questions were emotionally insightful and highly informative.

Our interview time with Clare afforded her the opportunity to share never before revealed insights into her personal thoughts and the making of I AM ALI.

Hoping to find out more about Muhammad Ali's love for Malcolm X and about their connection. When you read Alex Haley you hear what Malcolm X says about Ali, about how Ali changes his name from Cassius Clay to Muhammad Ali, about how it was a central part; and, I wanted to find out what you know about that.
Hana - There is so much about my father and so many dynamics to him. This is not a film about that.

May May - It's not.

Hana - There's so much covered.

May May - And that's been covered actually. It was covered in The Greatest. It was covered in Trials of Muhammad Ali. So you...

Hana - In his book, The Soul Of a Butterfly, we have a section about how he felt about the relationship with him.

May May - You can find documentaries with more of that relationship...you actually can. It's just Clare...I mean as a child, I'm glad this movie...there is documentation on that relationship but I think for this one it was a very balanced portrayal of my father - very balanced.

Hana - In The Soul Of A Butterfly, I wrote that for my father, it's his perspective and we do cover that. It may answer many questions about my father's relationship with Malcolm X.


From the recordings when you listened to them again, each of you, did you find something new? Did you discover something that brought up a memory that brought you all together?
Hana - I can't even tell you. You'd have me here for ten hours!

Because of how much I discovered, I had to break the book into volumes and each volume has parts. So, Part One is Muhammad Ali as Daddy where every one of my sisters has a voice. With those memories come a recording - one recording to back up the memory to go with it.

The rest of the 300-400 pages are about....my mother, the things I learned from them as husband and wife, then I learned about the war, and how his name opened up the lines of communication and so forth. So much! Just so much!

May May - For me, it brought memories back for me. She [referring to Hana] has heard more of the tapes; but, from the tapes in the film, I remember. I just remember those conversations real clearly.


There's one scene where your mom is talking and she says she looked at his eyes and walked away and started crying. She said it was because she saw the face of God. Can you elaborate a little bit on that?
Hana - She (referring to her mother, Veronica) can tell you better; but, what I remember about that is that after my parents divorced and before my father got married and moved to Michigan, he used to come and he would sit and have coffe and tea and visit us all the time.

Then he ended up moving so we saw him less but he would write us letters. So, there was a time period that my mom didn't see him because when he moved to Michigan, he got remarried; and, my mother got remarried. There might of been three where she didn't see him. In fact, our step-mother would actually come and get us instead of bringing him with her.

So when [my mother] did see him - it was actually a hotel room that it happened in - and she saw him for the first time in three years, their eyes lit up, they came to each other and they hugged, they cried; and then, she left the room. And he said, "Well, what's wrong with her?" so I went and asked and she said "I saw God in his eyes."

Because I think since she hadn't seen him for so long, and that spirit that is there in him, and people can take things for granted when you live with them; but, being that she hadn't seen him in awhile, it was a reminder of that [spirit in him].



As a big Muhammad Ali fan, for me - what I liked about your film - is it gives one a glimpse, because there is so much. But, a glimpse further into him as a family man and a lot of what he thought. I love the audios because it made him be in the film.

Tell me about that, what made you incorporate the audios? Was there ever a debate? Such as "We're not going to use them; or, maybe we'll do so."
No, actually, when I started making the film, I didn't have the audios. I wanted to make a film about his inner circle, which in some ways, because they're quite good interviews, may have been enough.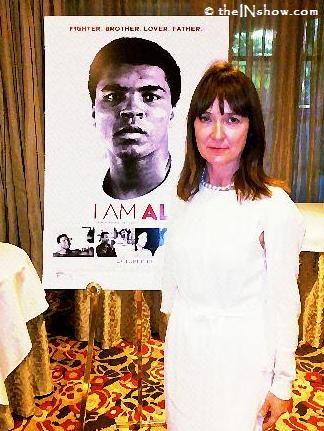 But then when I was in Vegas, that's when I found out about them; and so after that, it was my holy grail just trying to get this. And Hana would be such a little temptress. She'd send me stuff, talk about stuff she had, send me little clips telling me 'Well, no, you can't us this. You can't use that.' with me telling her "But I want to!"

Anyway, finally, after months and months and months, which probably was after Financing said, "Well, has she agreed?" I'd say "No, it's not a question of that. This is what it is: She has to feel comfortable and I'm not going to push it."

So, I used to talk to her about her book because she would read me bits about her book that's she's writing and I would say, "Well, Hana, you're saying 'Muhammad Ali did this. Muhammad Ali..' Say "My dad did that because that's your strongest point. Your strongest selling point, in a way, is you have this completely unique viewpoint because he is your father." And she'd say 'That's right. You're right.'

And then I said, "Are you going to let me have any of these clips?" She'd say 'No. No. Maybe a little snip.' Then she'd change her mind and finally she let me have a little bit. Then, I kind of pushed a little bit more, pushed a bit more and she said, 'You know, you can't use that clip about going back.' The part [in the film] where May May says, 'You're too old, Daddy.' I said "I have to! I'm going to put my foot down! I need that one...you're going to have to give me a favor because that's how I want my film to start." And she said 'Alright, alright, alright. Shut up (laughing).'
You mentioned that everyone idolized him: He was bigger than life. And the audios, especially that little segment, he was a father, he was like one of us.
Yes, he was.
It really gives that humanity to him.
People idolized him or people thought he was a traitor. He had a big personality. He had a big iconic way. People either loved him or hated him; but, they felt something about him, that's for sure.

But when you hear those tapes, and when I got in tune with them...I was listening to them, and the editor was listening, and we got very protective of his voice. Someone would say, 'That's not so clear, that tape recording.' And I would go "What do you mean?!" because we were so in tune with his voice. I could tell when he was tired or worried or vulnerable, really.

I think he had gotten back from a big fight or something and he rang and he kept saying, 'Say you love your daddy.' and it made you feel a poignancy about it because it was incredibly important to him that they loved him as a father.


Yes. You personally, because I know everyone has been touched by Ali. I remember when I screened your film, people were crying - men and ladies alike. People were still talking about it afterwards. I have my own personal connection with him. How about you? What was your first glimpse of Muhammad Ali or your first emotion? What did he conjure up within you?
Well, actually, I think because I don't come from a boxing family, the first time I saw Mohammad Ali as a child was on a talk show; so, I saw him as an entertainer because he was incredibly funny and very proud, and a sort of no-nonsense individual standing up for what he believed; and, he was basically funny, cheeky, and irreverent. I saw him as someone who was charismatic but I didn't know the back-story on him. I presumed he was a boxer because I was a child; but, I had never seen him box.

I saw him as a charismatic man.

But, over the years I love to find out the real stories of people - not in a derogatory way - but just finding out what makes them tick; and so, when this opportunity came up, because I made the one with the BBC, I just kind of fell in love with him.

I remember...I haven't told anybody this before...when I was having trouble getting financed for film. Because, I'm no name really. I mean of done some things but to get a big studio to take it on? Steven Spielberg and Martin Scorcese I am not; so I remember thinking, "Wow. I almost feel like giving up because I keep working so hard and borrowing money and everything."

And I went to see an Andy Warhol Exhibition that was in my local art gallery and I thought, "I'm going to go and sit in front of Ali's portrait," because I knew he was there, "and I'm going to get strength from him." And then when I sat there, I realized there was a picture of Marilyn Monroe and one of the Queen and they only had one image; but, for Ali, Andy Warhol had done three different images! His face like this, his face like a warrior...and I thought, "Wow, that's a sign because you can't capture him in one image." So I thought, "I'm going to push on with this!"
For you personally, you got to hear tapes that the rest of us only heard a smidgeon of it, you've spoken with his family, you've gotten a glimpse of him that rarely anyone outside the family has gotten, how did that change your perspective on the film? How did that change your personal perspective on him? yourself? Was there a change at all...a "Wow. This person is even larger than I thought he was."
Well, actually, what I thought was, he was even smaller than I thought he was in the sense that he was more multi-faceted. He wasn't just a poster image. He was a real man; and, that made me feel incredibly protective of him.

You know, I'm only getting to him and finding out about him through other people's view of him or of the archive. I've never spent time with him, like Gene Kilroy, who is with him - man and boy - I haven't got that; but, even just getting to know him through the archive and the interviews and the audio clips, I feel that ridiculously protective of him now and I feel that he has touched me.

I feel very lucky actually.
It's interesting that you say that. I had asked the ladies (May May and Hana Ali) about a moment where his ex-wife at the time walked up and she saw him, left the room crying, she said, "I feel like I've seen God."

He has that power across time, across space, where people get touched. They watch his fights and they somehow get inspired or they read a book...He seems to have some sort of metaphysical connection. How do you define that?
For you personally, you got to hear tapes that the rest of us only heard a smidgeon of it, you've spoken with his family, you've gotten a glimpse of him that rarely anyone outside the family has gotten, how did that change your perspective on the film? How did that change your personal perspective on him? yourself? Was there a change at all...a "Wow. This person is even larger than I thought he was."
I just can't.

The only thing I can say is when we went to film him, Gene said, 'Come to Vegas. It's his 70th Birthday Party.' And really, when we got there we realized, actually, this is bigger than we thought it was. HBO was there and others and it's not really my sort of thing. It was almost like a corporate event for raising money for Parkinson's. It wasn't the sort of small and intimate birthday party I thought it would be although Gene, of course, did assemble the great and the good for me, you know like Buzz Aldren and May May, and that was fine.

So there's this big event - which I didn't feel it was really him - but the next day, Gene or somebody at the MGM got him meeting the real people and he was going to come into the boxing ring and I was meant to be filming it. Then the cameraman said, 'Oh god! We've run out, our battery's gone!' And we can see him coming! And the cameraman says 'You've got to run back as fast as you can.' And I was like an Olympic runner and I got the battery on and put it in the camera. And as soon as I saw him coming, I was a member of the crowd.

I was crying. They were playing - and it was so cheesy - they were playing "I Am The Greatest." I mean, I love music and that would have been "Oh no! That's not high brow enough. That's not artsy enough." I was singing it!

I was crying. I just reacted, like a member of the crowd. I wasn't at all professional. In fact, I was clapping, singing Happy Birthday and the cameraman was asking, 'What's wrong with you?!' But I was in tears just being near to him.
Do you think it has to do with that love of the Gladiator? Everyone loves the Gladiator, the winner, the one who overcomes all obstacles and not just wins; but, becomes the Greatest.
I think so. I think everybody loves a story that's got a sort of arc to it. He was cocky. Some people said he was a brash kid. Then he won against Sonny Liston! Then there was a drop. So he's had his share of ups and downs in public opinion.

And when he's triumphed over that, there's nothing the public likes more, than a man who's triumphed over adversity because you can feel it somehow.
Now that the film is done, what would you like the audience to walk away with? Everyone is going to walk away with something; but, in your personal view.
Everyone is going to walk away with something different. There's going to be people who watch the film who are going to say, 'He's still a traitor.' There's going to be people who are going to think he is a prophet. I just like them to walk away thinking he's just got something very special about him and he just loves people.

In fact, Hana is always saying that 'Daddy needs people like we need air to breath' and you can hear that on the tape recording. I mean, it's funny, because I said to Veronica, "When you were married and you first came back off your honeymoon, it would drive me mad to find the house full of strangers, when you're never on your own." Because I used to live in Africa and it was quite similar. You kind of had an open door policy, so, you were never on your own; and, I need my space sometimes. And she said, 'Well, I just got used to it because Muhammad just loves people.'
Just one last question, that specialness that he has, have you, from your perspective seen it today in anyone else? In an athlete? In entertainer of some kind?
No.
No? Just unique to him?
I don't...I mean, I'm trying to think who else. Maybe Nelson Mandela? I've never met Nelson Mandela. Maybe Nelson Mandela would have it. I don't know. Because, interestingly, George Lois - the advertising guru - has made advertising campaigns with JFK, Elizabeth Taylor, Robert Kennedy, all the people you can think of in iconic American history, and, he said out of all of them, Muhammad Ali has IT.
Gus Summers is the Host and Broadcast Producer for The "IN Show, an entertaining broadcast that covers all things exciting and enlightening.

When Gus isn't busy covering current events and interesting people, you'll see him out and about enjoying all that the City of Angels has to offer. For any questions, comments, or program ideas, he can be reached at gus@theinshow.com.
(© 2014 to present IN Show Media. and The "IN" Show.
All Rights Reserved.
This material may not be published, broadcast, rewritten, or redistributed without permission of the Author.)