July 16, 2013 2:30 pm US/Pacific
Gore Vidal: The United States of Amnesia | a film by Nicholas Wrathall.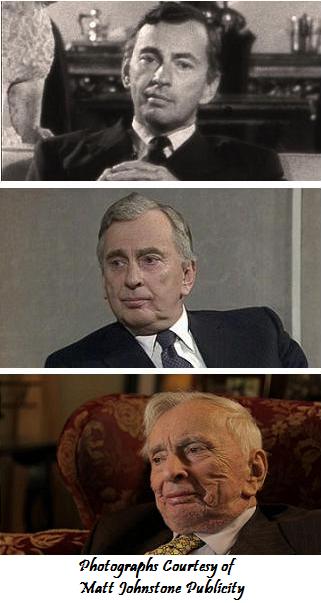 West Hollywood, CA - The Greeks had Socrates. The Romans had Cicero. The United States had Gore Vidal.

Gore Vidal: The United States of Amnesia, a film by Director Nicholas Wrathall, is a singular documentary that carefully pulls back the many veils that made up the man. Wrathall has cleverly presented Gore Vidal to the viewing audience through his powerful construct of pointed, one-on-one interviews, archived photographs and footage from over the course of Vidal's life, and pointed reflections from those who knew him.

Eugene Luther Gore Vidal was born into a family of influence. His father worked in FDR's Administration and his mother was very much the socialite. It would be his maternal grandfather, U.S. Senator Thomas Gore, who would have the most profound affect in Vidal's life. Vidal shares, "Brought up by a blind man, accidently blinded at age 10. Made his way in the world. Self pity is very hard to indulge in."

"You don't decide to be a Writer." said Vidal, "You either are one or you're not." Gore Vidal was a writer and an exceptionally, prolific one at that! (It must be noted that Wrathall hit upon Directorial Genius with his decision to sprinkle Vidal quotes throughout the course of this film. Each one chosen was fitting and the overall usage made for a most enjoyable nuance to the documentary.)

Vidal began writing at a very young age and his The City and The Pillar, written at age 22, was an international success. It both paid him well and made him notorious! He became blacked out by the New York Times and thus found himself in need of making money. Enter, The Golden Age of Television.

Writer. Dramatist. Playwrite. Novelist. Celebrity Intellect. Director Nicholas Wrathall smoothly and nimbly broaches each facet of Vidal. He skillfully provides enough of Vidal's past and mixes it with his interviews of the Man in his present as he whets our appetite for more of Gore; but, alas, Gore Vidal is with us no more.

The great English Satirist, John Donne, reminds us that "...any man's death diminishes me." Gore Vidal's death diminished the people of the United States of America. As Wrathall's documentary unfolds, he brings to remembrance the quick-witted, truth-telling, controversialist that Vidal was - and in his writings - continues to be.

"We learn nothing because we remember nothing." Gore Vidal: The United States of Amnesia is by no means simply a documentary of finding out "Who was the man, Gore Vidal?" whilst he was still alive. No, Wrathall's film is so much more in that it is a profound reminder of the need for a strong, compelling voice! Gore Vidal was - is - America's voice.

He was our "Counter Narrative" and Wrathall's brilliant film reminds us of that. Politics. Sex. Corporate America. The Rich. The Poor. Terrorism. Freedom. There was no topic left untouched, no demigod left standing, and no politician left unscathed by the pen as wielded by Vidal.

Nicholas Wrathall's film, Gore Vidal: The United States of Amnesia, is a must see for everyone. It is as eye-opening as it is poignant and leaves an indelible mark, as it should.

SPECIAL NOTE: Gore Vidal: The United States of Amnesia is screening at this year's Outfest on Saturday, July 20, at 11:00am at the Directors Guild of America.

The "IN" Show had the opportunity to interview LBGT filmmaker, Nicholas Wrathall (Abandoned: The Betrayal of America's Immigrants), on his film. He shared with us his thoughts on Gore Vidal the man, the icon, and the enigma.

Most American's knew of Vidal's personal life (he lived openly in his homosexuality but opted to keep his personal life private), and Wrathall's Gore Vidal: The United States of Amnesia, again, does a splendid job of sharing that facet of Vidal with the viewer in the only way possible, through the wit, word, and way of the man himself.

If you can get to the screening this Saturday, June 20th, then by all means do! If you cannot, please, be sure to watch it first chance you can. And, how to do that? Why, like Gore Vidal: The United States of Amnesia on Facebook, follower on Twitter, and subscribe at Tumblr, of course!
---
Film: Gore Vidal: The United States of Amnesia
Directed by: Nicholas Wrathall
Produced by: Nicholas Wrathall, Theodore James, Burr Steers
Cast: Gore Vidal, Burr Steers, Christopher Hitchens, Jodie Evans, Tim Robbins, Mikhail Gorbachev, Sting, David Mamet, Bob Scheer, William F. Buckley, Jay Parini, Norman Mailer, Nina Straight and Dick Cavett.
Total Running Time: 89 minutes
PR Firm: Matt Johnstone Publicity

Gus Summers is the Host and Broadcast Producer for The "IN Show, an entertaining broadcast that covers all things exciting and enlightening.

When Gus isn't busy covering current events and interesting people, you'll see him out and about enjoying all that the City of Angels has to offer. For any questions, comments, or program ideas, he can be reached at gus@theinshow.com.
(© 2013 IN Show Media and The "IN" Show.
All Rights Reserved.
This material may not be published, broadcast, rewritten, or redistributed without permission of the Author.)